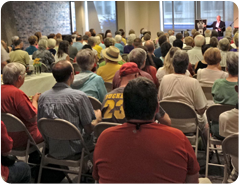 Need a meeting space for your group or event?
First Church is located just one block from the state capitol building on Wisconsin Avenue. Our central location and the availability of specialized spaces in our building, make it a desirable location for a variety of uses.
Our facilities are used primarily for local church ministries, from weddings and baptisms, to funerals/memorial services to community meals. But our ministries are further enhanced by making our building available for broader use by the community.
Our building and facilities are available for rent to other groups, including religious, charitable, arts/culture, community service, fellowship, and educational groups.
Accessibility
The church building, Sanctuary, and Fellowship Hall are accessible to wheelchairs, with an elevator to classrooms on upper and lower levels.
There is easy drop-off near the main door and designated accessible parking spots.
We also offer a hearing loop for assistive listening and two large display screens. Ushers have large-print bulletins.
Building Security
Interested in using our building for your activity? Please refer to our guidelines, fee schedule, and forms below:
Facility Use Request Form
Please use this form for funeral/memorial services, conferences, meetings, performance related events (rehearsals, plays, concerts)