Looking for services or support?
We believe that what we do within each ministry should flow purposefully out of what we value and love. First Church is committed to improving the lives of those in our downtown community, our state, country and world. To this end, we have built relationships and established partnerships with groups who share our passion for helping others and working toward equity and equality for all.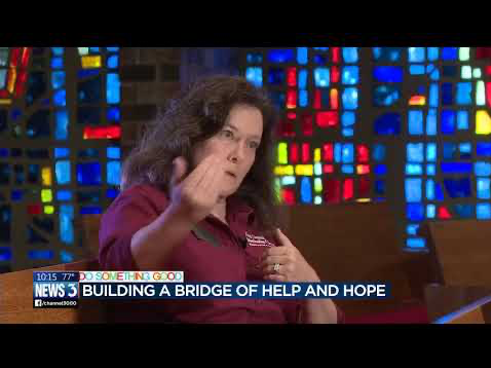 ---
Food Resources
Hope's Home Ministries serves in community to help end hunger in our neighborhood. We operate a Food Pantry for guests to shop up to once a week. We extend our table every Wednesday with our Community Breakfast sharing a healthy, hearty meal. Community Holiday Meals on Easter Sunday and Christmas Day are festive meals enjoyed in community.
Food Pantry
Community Breakfast
Easter Community Meal
Christmas Community Meal
---
Health-Related Resources
A team of care providers including medical, mental health, dental, legal, housing, employment, FoodShare and help with basic Connections to Care team up with Hope's Home Ministries every Wednesday morning from 9:00 a.m. to 10:30 a.m.
See our list of Connections to Care here.

---
Spiritual Connections
Our Hope's Home Ministries is a place where individuals with or without a church home join in supportive community of faith. Come As You Are Worship is our on-site ecumenical inclusive gathering focused on connecting with our neighbors suffering homelessness and building meaningful connections with our downtown neighbors. All Are Welcome! Hope's Home Ministries is a part of our downtown faith community sharing spiritual connections throughout the year.
Opportunities for Spiritual Connections
Come As You Are Worship is an informal worship and support gathering held every Wednesday (9:45 to 10:15 a.m.) in Fellowship Hall. Come As You Are Worship provides an opportunity to join together in faith. Our team of worship leaders offer unique styles in sharing scripture, interactive dialogue, support and comfort.
Longest Night Memorial is an annual gathering that honors the lives of individuals who died that year without a home. It is an inter-faith community remembrance and time for us to give voice to injustices surrounding the trauma of homelessness nation-wide. We partner with Madison-area Urban Ministry (MUM), First Congregational United Church of Christ and area faith leaders to participate in an outdoor memorial service at the Capitol Square, and in indoor candlelight service in our Chapel led by diverse inter-faith worship leaders whose ministry involves issues of social justice. Following the service, Hope's Home Ministries hosts a Soup & Bread Supper prepared and served with love from our Loaves and Fishes Kitchen by community advocates.
Contact: Karen Andro
Longest Night Memorial
Bethel Lutheran Church offers supportive community outreach through Bethel Homeless Support Services (BHSS). Tuesdays and Thursdays (8:30 a.m. to 4:30 p.m.) BHSS provides a safe, supportive space for individuals suffering homelessness. Their spiritual support group is held on Tuesdays, and lunch served every Tuesday and Thursday. We share common core values of Mercy and Justice in how we help our brothers and sisters suffering the trauma of homelessness.
Contact: Bev Thom
Bethel Homeless Support Services
Grace Episcopal Church offers supportive spiritual connections offering a mid-day worship every Wednesday. Their on-site Food Pantry and personal essentials pantry operates four days a week. They share a wonderful home cooked Community Breakfast the first Monday and Tuesday each month in Guild Hall with special music. Check out their Ministries for the Homeless to learn more.