Our Mission
The Green Team's mission is to challenge and enable the members of First United Methodist Church to protect and nurture God's creation through education and action. We prioritize social, environmental and climate justice as we do God's work.
In-Church

Activities
We start by looking within to reduce the carbon footprint of the church building. We have already installed energy efficient lightbulbs, and banned the use of disposable cups, plates and silverware during coffee hour activities.
We also:
Collect food scraps from the kitchen from meal preparation and use for compost

Make cloth napkins available for meals and coffee hour

Undertake an evaluation of installing solar panels on the roof of the church

Provide Terracycle bins for members to use for recyclable items that cannot be put into municipal recycling bins. We do this in collaboration with the Monona Public Library and other places. Click for a list of items we accept for recycling.
---
Educational Opportunities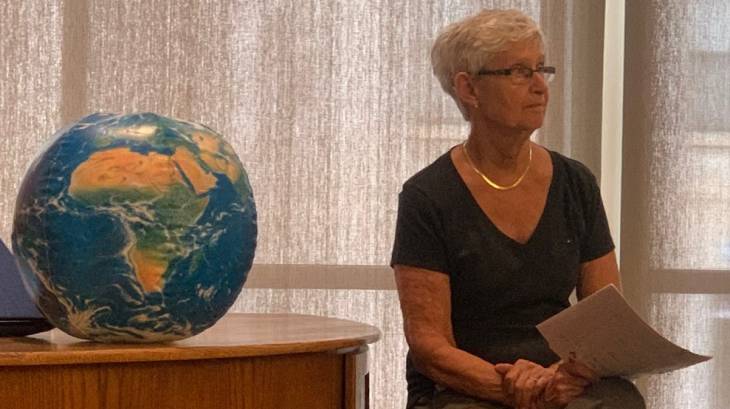 One of our primary activities has focused on bringing in speakers with specialties in different subject areas. Most of our speakers come to the church during the Adult Sunday School time, usually 10:15-11:15. Here are some the topics areas we have focused on:
Urban Gardening and composting; soil science

Water quality; flooding

Climate change

Faith and care of creation

Sunday morning display table full of information
---
Our Season of Creation
Each spring we have multiple weeks in which we celebrate the care of creation by integrating our interest in environmental issues into worship, music, book study, and Sunday School Classes. In May/June 2020, we will focus on PFAS in water and in local food opportunities.
---
Outings
We are an active group that likes to go to places to see what is happening in the area. Outings in the past have included visiting:
Madison's landfill and recycling center

Kitchen at the Monona Terrace to learn about composting food waste

Farley Center for Peace, Justice and Sustainability in Verona to see the Natural Path Sanctuary, a nature preserve burial ground/cemetery

Madison Metropolitan Sewage Treatment Plant

Chazen Museum – "Plastic Entanglement" exhibit on plastics (docent led tour)

All-church outing to the Leopold Center
---
Films
As a group, we watch films together on environmentally related subjects. Some DVDs are shown at the church while others are films shown at venues such as the Marquee Theatre at Union South that are free and open to the public. In 2020, we plan to watch "Dark Waters" – a DVD about PFAS in water
Some of the films we have watched and are available for check-out from the church library include:
Plastic Pollution, a PBS documentary

Paris to Pittsburgh, history of recent climate action

FLOW: for Love of Water, a documentary about growing concern of privatizing water

DIRT! The Movie, tells the story of humans trying to reconnect with dirt
---
Book Club
Each year we will choose one or more books to read. Everyone from the congregation is welcome to join a discussion group. Book discussion groups will be conducted online via ZOOM. We can break into small discussion groups online based on people's availability.
In 2020, we will be reading

Braiding Sweetgrass by Robin Wall Kimmerer.

The book includes short stories about plants and botany as seen through Native American and Western scientific traditions. Check out a copy from your public library or

purchase a copy of your own

.

Each week we will read one section of

Braiding Sweetgrass

. After five sessions, we will have read the whole book.

The book club will start in

mid-June.
---
Youth
We enjoy working with our church youth and with young adults. In the past, we have participated in climate marches together and celebrations of Earth Day. We will continue to partner with our young brothers and sisters into the future.
Have questions or want to join us? Send an email.