All photos on this page are from the 2020 summer protest art murals in downtown Madison, as photographed by Jim Scorgie. You can see the full gallery of Jim's photos here.
RACIAL EQUITY AND JUSTICE MINISTRY
The Racial Equity and Justice Ministry is comprised of First United Methodist Church members and friends who are striving to learn about the history of enslaved African Americans in the United States, to understand the benefits and privileges white people have received as a result from that enslavement, and to respond in ways that lift up our Black brothers and sisters.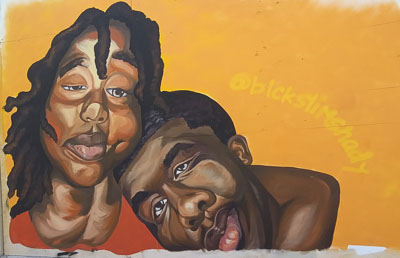 Participants in this new program began meeting as a class in June, 2020. Learning has been, and continues to be, a priority. Book studies, viewing pertinent videos, listening to lectures by Pastor Mark and community leaders, and discussion are part of the weekly, virtual meetings. In addition, the class divided into four action groups for continued study, and to determine how to best provide support, (through financial gifts and/or volunteer service), so that we may walk side by side with members of our African American community. The groups are:
Becoming Community Partners - Establishing partnerships with community organizations concerned with racial justice
Education - Promoting self-education and addressing educational inequalities
Criminal Justice & Mental Health - Advocating for criminal justice and mental health; altering the school to prison pipeline
Reparations – Exploring the complexities
Through learning about the history of enslaved African Americans, class members have become more aware of, and sensitive to, the indignities that all people of color have experienced, and are continuing to experience, in the United States.
Sharing information is an important part of this ministry! If this topic is of interest to you, or for more information, please contact our lay leader Carol Oliver, contact Doug Maynard, or contact Rich Oliver.